You are in KNJN US - Shipping worldwide from CA, USA.
For KNJN EU, click
here
.


☰
Dragon-E PCI Express & FX2 USB FPGA board
Q3 2012 - Now with Windows WDM driver, includes source code.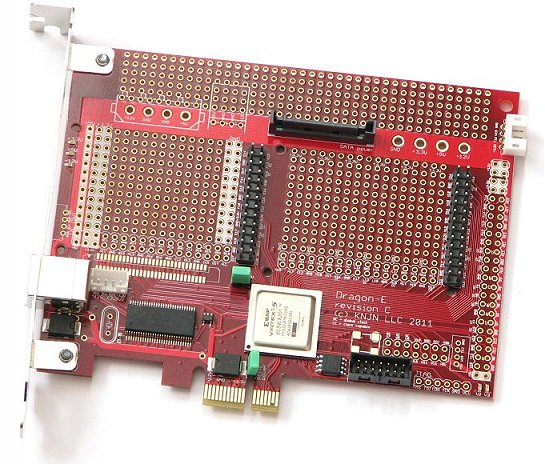 In short:
Xilinx Virtex-5 FPGA with integrated PCI Express port.
Color TFT LCD with LVDS interface.
USB-2 high-speed interface, lots of IOs, I2C master, FlashyD compatible... and the ease of use of KNJN FPGA boards.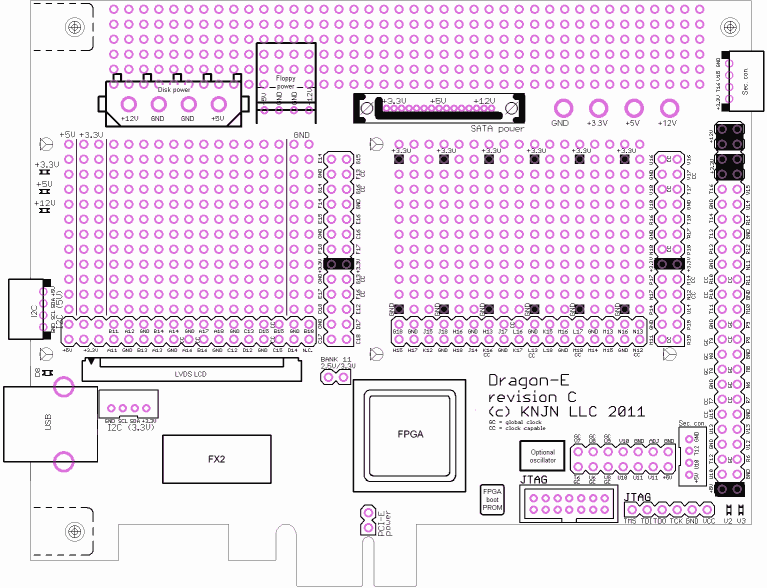 PCI Express and USB-2 high speed interface
The Xilinx Virtex-5 FPGA provides the PCI Express port in conjunction with Xilinx's PCI Express "Endpoint Block Plus" core. The core is included in Xilinx's free development tool ISE Webpack. The board also features an high-speed USB-2 interface allowing using the board in standalone or dual-PC mode.
Flashy
Dragon-E can be used as motherboard for other projects. See here for example Dragon-E with a FlashyD acquisition board to create a two-channels acquisition system or digital oscilloscope.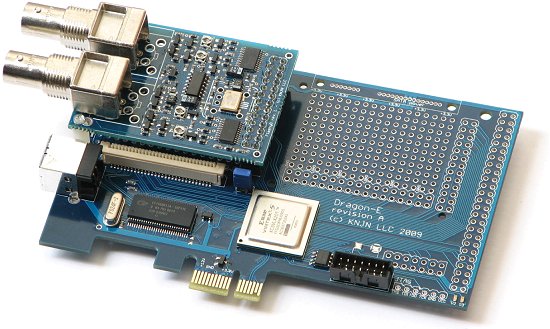 Color TFT LCD
Dragon-E has the option to drive an LVDS TFT LCD through its FFC connector.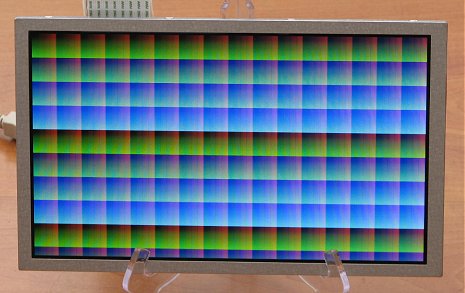 What is provided with the board
Board files:
Board documentation (view online here) (PDF)
Configuration software (Windows EXE)
FlashyDemo (FPGA bitfile + GUI)
New! - sample Windows WDM driver (binary + source code)
FPGA files:
PCI Express read/write example (HDL)
USB-2 bi-directional communication (HDL + C source code)
FlashyMini (HDL + C source code)
LCD demo design (HDL) (when purchased with LVDS LCD option)
As Dragon-E is also an FX2 board, some additional info is available in the FX2 FPGA & ARM boards page.
To purchase a board
Go to the Shop - FPGA development boards (PCI & PCI Express) page.