☰
Widy acquisition board
The Widy boards are high-resolution, medium-speed analog acquisition boards.
Widy: single input, 10bit @20Msps
Widy-D: dual input, 12bit @20Msps
For more details, see the Widy doc.
To purchase a board, go to the Shop - Flashy & Widy or Shop - FlashyD & WidyD page.
HP8568B recorder
A nice application of the Widy-D board is an HP8568B recording device.
At the beginning of 2013, we received an interesting email from Mike (an ham radio amateur operating from New York). He pointed out that some legacy spectrum analyzers were using stroke (also called vector) displays, and how it would be interesting to capture the output of these devices.
The HP8568B spectrum analyzer outputs three signals named X, Y and Z. They are analog signals (X and Y draw the image, while Z is the intensity of the trace). A quick test showed that the Flashy boards were not high-resolution enough to do the job, but Widy-D proved ideal (the two 12bit inputs record X and Y, while a third low-resolution input records Z).
Mike recently sent us images of his RF bench while using a Saxo-L/Widy-D combo and custom software. The software provides both a real time display of the HP's CRT as well as extended recording.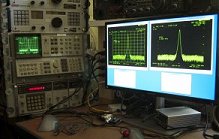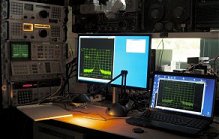 For more info on this application, please contact us or get one kit from this page.