☰
Pluto, Pluto-II/-IIx/HDMI and Pluto-3 FPGA boards
FPGA development boards that plug into a PC's serial port.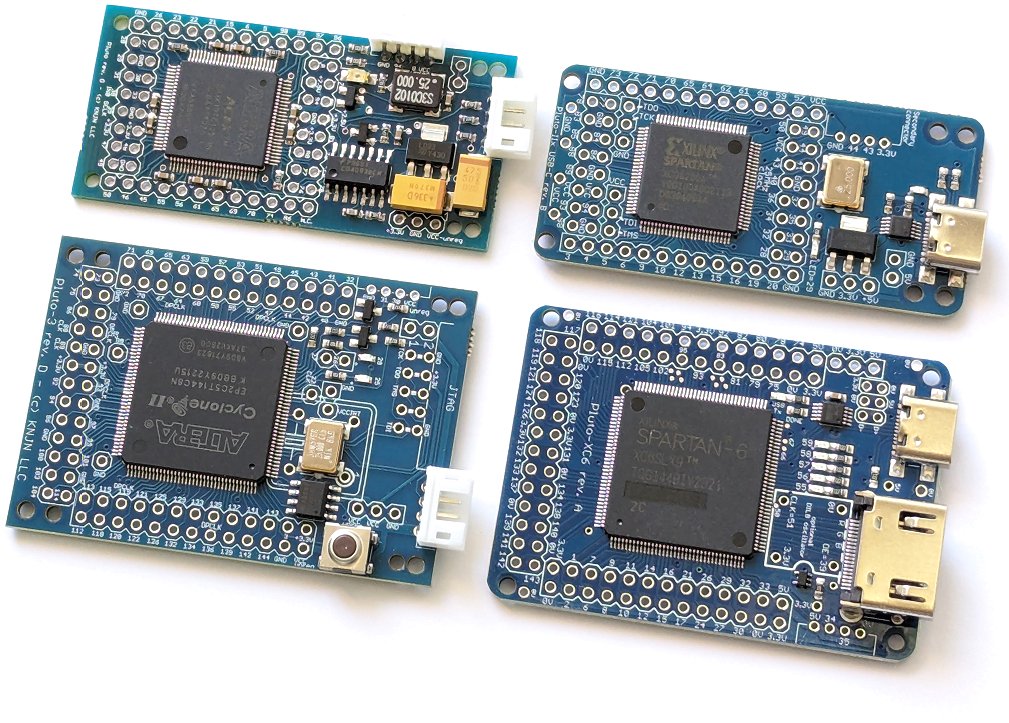 Characteristics:
Easy to use - controlled from a PC's serial port.
Small form factor - go into a 'solderless-breadboard' for experiments, or used as motherboards or daughterboards for other projects.
Few on-board peripherals, most IOs available to connect to external peripherals.
Built-in voltage regulator, allows to use a common DC adapter as power supply.
Flashy and Widy compatible (and FlashyD and Widy-D for Pluto-3).
FPGA configuration
Select a bitfile, and click the 'Configure!' button in the provided application. The process takes 10 to 60 seconds. The boot-PROM can also programmed/verified/erased (with Pluto-II/-IIx/HDMI/-3 only, since Pluto doesn't have a boot-PROM).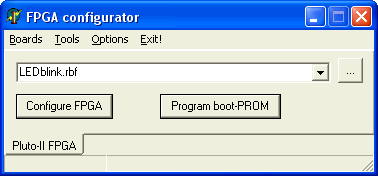 How to connect the boards to a PC
The Pluto boards connect to a PC's serial port.
The serial port has two purposes:
It is used for FPGA/boot-PROM configuration.
It is used for PC <--> FPGA communication once the FPGA is configured (you can write a PC software that give orders to the FPGA, for example).
What files do you receive with the Pluto boards?
Board files:
Board documentation (view online here) (PDF)
FPGAconf configuration software (Windows EXE)
FlashyDemo (FPGA bitfile + GUI)
FPGA projects, 'ready to compile':
LED (HDL source code)
Music (HDL source code)
SerialRxTx (HDL + C source code)
Pong VGA (HDL source code)
FlashyMiny (HDL + C source code)
To purchase a board
Go to the Shop - FPGA development boards (serial and parallel) page.