FX2 FPGA & ARM boards
USB-2 high-speed boards based on Xilinx & Altera FPGAs, and Philips's ARM processors.
See for example the boards "Xylo-LM", "Saxo-Q"and "Dragon-E".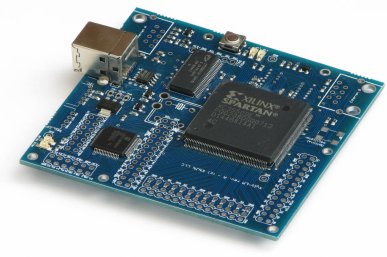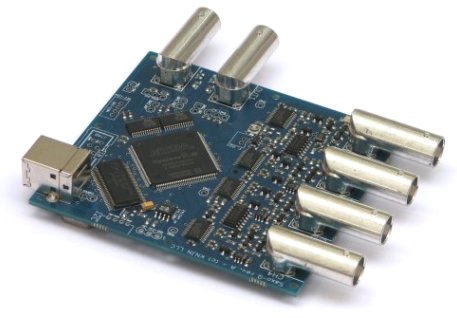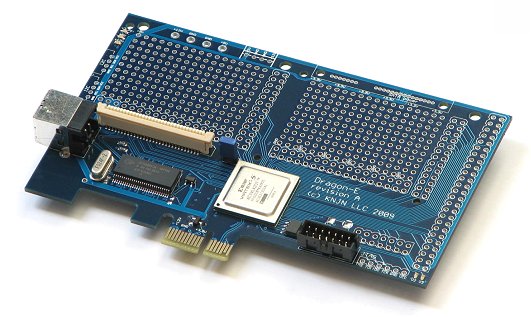 Features
FPGA + optional ARM processor.
All boards: Controlled from USB-2 - no JTAG cable or power supply required.
Come with documentation, tutorials, source files and tools.
In addition of being development boards, they can be used as analog acquisition systems (using a FlashyD daughterboard) or logic analyzers (using Chipscope or SignalTap).
Saxo-Q only: adds four high-speed analog inputs and two high-speed analog outputs.
Dragon-E only: adds a PCI Express interface. Check also this page.
There are currently eight boards available.

Note 1: Boards are FlashyD ready (dual high-speed analog inputs). FlashyD is sold separately.
Note 2: Not native, but FPGA JTAG-over-USB possible by soldering 4 wires on the boards.
Note 3: Five VGA IOs are shared with the IOs of the main board header.
Note 4: Dimensions don't include the PCI Express connector.


Here's the family block diagram.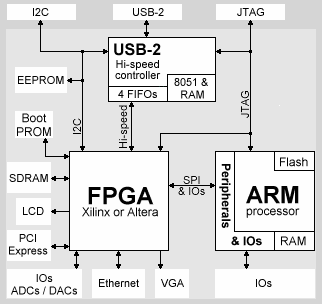 What is provided with the boards
Main files:
Configuration software (Windows EXE) - New ! with signed x64 USB driver
OpenOCD software (Windows EXE) (Saxo-L & Xylo-L/-LM only)
FPGA JTAG-over-USB emulation (8051 hex file) (Saxo/-L & Xylo/-EM only)
FlashyDemo (FPGA bitfile + GUI)
I2C PC control (C source code)
FPGA tutorials:
LED, PushButton, Serial (HDL source code)
USB-2 LED control, USB-2 text LCD control and USB-2 bi-directional communication (HDL + C source code)
FlashyMini (HDL + C source code)
VGA pong game (HDL source code) (Xylo/-EM only)
Ethernet UDP (HDL + C source code) (Xylo/-EM/-L/-LM only)
USB-2 SDRAM control (HDL + C source code) (Xylo-EM/-LM only)
ARM tutorials:
LEDblink/LEDglow, SPI/SSP (C source code) (Saxo-L & Xylo-L/-LM only)
Special requirements
For Saxo-L & Xylo-L/-LM (with ARM processor) Eclipse IDE:
About 100MB internet download
About 300MB disk space
To purchase a board
Go to the Shop - FX2 FPGA development boards (FPGA & ARM) page.